Engineering Technical Services
Serving and partnering with Faculty, Staff, and Students across the Fulton Schools of Engineering. Our core services include technology planning, support, and implementation.
Student Learning Resources
Browse through our collection of services and resources designed for you on your academic journey. One of our goals at ETS (Engineering Technical Services) is to foster the academic success of every student by minimizing technological challenges that could impede learning.
Computer Labs
Hours, locations, restrictions, and details of computer labs, classroom labs, and remote access labs
FSE Cloud Classroom
Virtual environment hosted in the cloud that provides Fulton students immediate access to software used in many Fulton Engineering courses directly from a browser window
ASU My Apps
Find, learn, and request software provided by ASU Enterprise Technology to ASU Community
Computer Hardware Recommendations
View the entry-level hardware recommendations for ASU engineering students, and find links to purchase appropriate hardware
ISAAC Door Access
The Integrated System at ASU for Access Control is the keyless door access system for the Fulton Schools of Engineering. ISAAC uses the latest iClass proximity/smart card technology. This technology is integrated into your ASU Sun Card.
Student Service Request
Ask a question, live chat, contact information, and tech support for ASU students
Need Windows 11?
Free Windows licensing is available for FSE students through ASU via the Azure Dev Tools
Student Device Support
Technical assistance with your laptop or mobile device, wireless network, viruses, etc.
---
FSE Computer Standards
FSE computer standards covering desktops, laptops, tablets, and monitors. Computer standards, procedures, exceptions process, and replacement program to meet specific goals
Security Review
FSE guidance for acquiring software and hardware to fulfill appropriate security controls
Business Analysis
Connect with a business analyst who will carefully examine both new and existing processes, and create requirement definition documents to ensure that the project scope is well-defined and agreed upon by all stakeholders.
One Drive
OneDrive is a cloud-based service offered by Microsoft that allows you to access and collaborate on all your files from anywhere. It provides a range of features, including seamless collaboration, secure access controls, and more, all designed to help protect your work while making it easier to work together.
Standards & Guidelines
A comprehensive set of FSE Standards and Guidelines specifically tailored to meet the needs of FSE faculty, staff, and students. Includes links to important resources such as ASU Policies, Computer Standards, Security Policy, and the ETS Service Level Agreements.
Web App Development
ETS developers build web-based software used by learners, teachers, and administrators to support a variety of FSE academic programs
DocuWare
Document storage, management, and workflow automation. Get support from ETS to use DocuWare as a store for digital signatures and documents.
Technology Planning
We offer technology planning resources to help you access the tools you need to deliver high-quality instruction, collaborate effectively, and use technology effortlessly. Check out our services, tools, and FSE standards and guidelines for IT services and devices.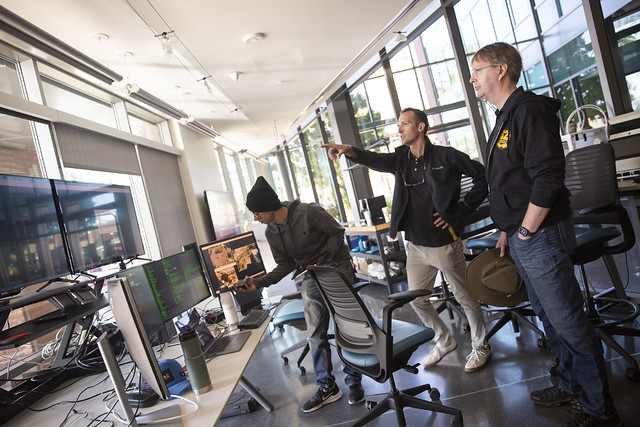 ---
Faculty, Staff, and Student Resources
This a collection of items that may be useful as you cultivate excellence in this next generation, encourage others in their journeys to success, learn how to think boldly, and deliver innovation that matters. You will find articles on obtaining licensing for teaching and research applications and instructions on installing software on ASU-owned computers.
Abaqus
Abaqus is a powerful simulation software suite used for advanced finite element analysis, computer-aided engineering, and multiphysics simulations. No cost for FSE researchers.
Cadence
List of courses by engineering school that use Cadence programs
QuestionPro
Learn about QuestionPro, an online survey tool, signup for an enterprise account free of cost with ASU credentials, and get help troubleshooting
SmartSheet
Assistance and information about requesting and purchasing Smartsheet license
Ansys
ANSYS is a comprehensive suite of engineering simulation software that enables engineers to simulate and test virtual prototypes of their designs across a range of industries. No cost for FSE researchers.
---
Google Workspace for Education (formerly G Suite) is changing the allowed storage for educational institutions. As a result, the storage allotted to ASU will be significantly reduced. Starting on December 31, 2022, Faculty, Staff, Student Workers, and Retired Employees will get 20GB of storage and Students will get 5GB of storage.
We have seen an accelerated transformation regarding the use of technology and remote learning.Learning from this, we have made changes in some classrooms that allow for better communication while hosting an in-person or hybrid classes.
Fulton Launches The Software Hub
New for the Fall of 2022, engineering students, staff, and faculty now have a centralized starting point to find software available to them. Sun Devils from the Ira A. Fulton Schools of Engineering now have The Software Hub, an Engineering Technical Services (ETS) web page that brings together dozens of educational technology tools and hundreds of desktop software titles.